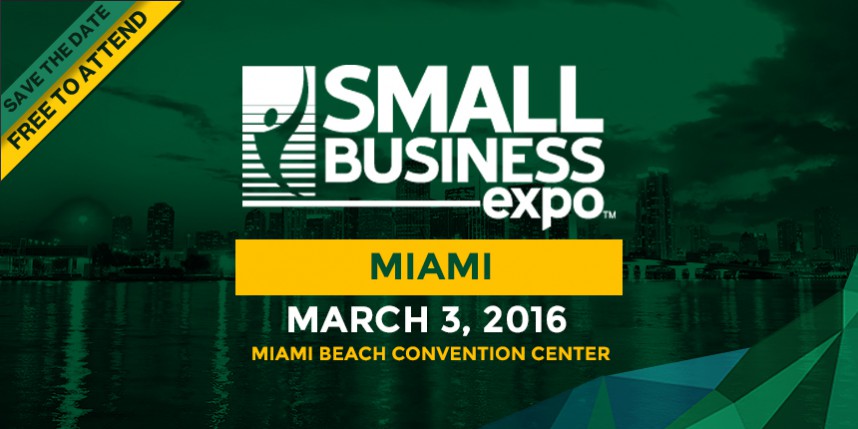 Blackstone Merchant Services to Exhibit at Miami Small Business Expo
Miami, FL – March 2, 2016 – Blackstone Merchant Services announces that it will exhibit at MIAMI SMALL BUSINESS EXPO®, March 3, 2016. The expo is located at the Miami Beach Convention Center. We'll be showcasing our business solutions such as Clover, Kashin, and other merchant services. For more information, and free registration, visit the Miami event page.
The day-long conference and trade show, which travels throughout the country's top cities for small business, brings together industry thought leaders and experts in a hands-on environment that features more than 20+ free business critical workshops and programs along with 100+ interactive booths, demos and brand exhibits. Headlining the event is Bill Walsh, Founder and CEO of Powerteam International with his presentation "The 7 Keys to Build a Mega-Successful Business" on the Inspiration 2020 Showcase Theater stage.
Start-ups and business owners can take advantage of free admission and educational workshops covering online/social media marketing, employee benefit plans, credit and financing, strategies for increasing revenue and team productivity, mentoring, cloud technologies, retirement plans, and more.
Small Business Expo expects to have more than 4,000+ registered attendees from across the Miami metropolitan area shopping for business resources, developing business leads, gaining new insights, and networking with peers.
"Experts tell us that more and more Miami residents are wanting to take the entrepreneurial leap," says event founder Zachary Lezberg, "but that the biggest barrier to starting a new business is that people don't think they can" he adds, "With the program we've put together, we believe our attendees will feel more empowered by the end of the day."
This year's Titanium Sponsor: Powerteam International will be joined by Presenting Sponsor: Paychex; Platinum Sponsor: Emerge212; Gold Sponsor: Vistaprint; and Silver Sponsors: AT&T, Benchmark Email, Berkman Financial, BizTV, BizTalk Radio, CALAS Group, ComplyRight, eBillity, EDDM2go, Geico, North American Bancard, VEDC and YP.com.
MIAMI SMALL BUSINESS EXPO will take place at the Miami Beach Convention Center | Hall C – 1901 Convention Center Dr, Miami Beach, FL 33139 from 9:30 am until 5:30pm.
Blackstone Merchant Services will be located at Exhibitor Booth #521.
For media inquiries, or complimentary press passes please contact:
Alicia Cortez, 212-651-0698, alicia@theshowproducers.com.
About Small Business Expo
SMALL BUSINESS EXPO® is the nation's largest small business networking and learning event, and an Inc. 5000 company. Every year, over 65,000 small business professionals and entrepreneurs across the country attend the SMALL BUSINESS EXPO in 14 MAJOR US Markets to take their business to the next level. The show's owner, Film, Stage & ShowBiz Expo LLC. was founded in 2008 by Zachary Lezberg. The company's headquarters are located at 555 8th AVE Suite 909 New York, NY 10018. For more information, visit www.thesmallbusinessexpo.com, call (212) 404-2345, or email: info@thesmallbusinessexpo.com .
For more info about this Expo, Click Here
#SmallBusinessExpo #SBEMiami #SBE2016 #SBE #MiamiSmallBusinessExpo #MiamiSBE